About
Andreas Kocks creates what he calls "Paperworks"— junctures of sculpture, installation, and paper cutting. Kocks, who received his degree in sculpture, centers his practice on cutting paper into abstract, frothy forms, installing them in layers to create an illusion of depth. The works are sometimes monumental in scale, spreading from floor to ceiling of a gallery.
For these works, Kocks limits himself to using only black or white paper; the different layers become visible in the way the light hits the work's surfaces, or in the way that the paper curls.
Kocks has also created a series of watercolor works in which he carves into thick sheets of watercolor paper, then uses washes of color to highlight the relief and the texture of the paper.
---
Biography
1960 born in Oberhausen, Germany. Lives and works near Munich
1980 Kunstakademie Düsseldorf, with Norbert Kricke, Ulrich Rückriem and Erich Reusch
1987 BFA in Integration of Fine Art and Architecture, Kunstakademie Düsseldorf, MA in Education, University of Düsseldorf
1989 MFA in Sculpture, Kunstakademie Düsseldorf
1998-2006 Lived and worked in New York
2006 Pollock-Krasner-Grant, New York
2010/11 Lecturing Artist at SCAD, Savannah College of Art and Design, Lacoste,France, Atlanta, Savannah,  GA, USA
---

Commissions
2023
Beautiful Dreamer (#2312B), Private Collection, Seattle, WA, USA
2022
Redwood (#2120B), Corporate Collection, Redwood City, CA, USA
2021
Solid Ether (#2101B, #2102B, #2103B), Corporate Collection, Las Vegas, NV, USA
MyCloud (#410/3), Private Collection, Munich, Germany
Der Schaum dieser Tage (#2104G), Neue Galerie Dachau, Germany
2020

Harmonices Mundi (#2040WG), Private Collection, Bahamas, BS
Sutton 1 (#2001SG), Private Collection New York, NY, USA
5/51 (#2002G), Private Collection New York, NY, USA
2019

MyCloud III (#1916Au), MGM Studios, Las Vegas, NV, USA
Meant To Be Blue (#1917C), Private Collection, Chicago, IL, USA
Elephant's Breath ( #1919), Helsinki – Kerava Art Museum, FIN
2018

Solid Ether (#1806P), Private Collection, Munich, Germany
Exile From Paradise (#1803G), August Macke Museum, Bonn, Germany
Untitled (#1802A), Private Collection, Los Angeles, CA, USA
2017

Pleased To Meet You 2 (#1709A), Private Collection, New York, NY, USA
Untitled (#1701A), Private Collection, Freiburg, Germany
2016

Field III (#1607), Private Collection, Penzberg, Germany
Untitled (#1602G), Private Collection, Mannheim, Germany
Untitled (#1601G), Private Collection, Mannheim, Germany
2015

Endless Days (#1536G), Cruise Ship : Mein Schiff MS5
Spy vs. Spy (#1537D), Cruise Ship : Mein Schiff MS5
Reconstructing A Dream (#1538D),Cruise Ship : Mein Schiff MS5
Teen Town (#1539G),Cruise Ship : Mein Schiff MS5
Untitled (#1534A), Private Collection, Mannheim, Germany
Untitled (#1533G), Private Collection, Mannheim, Germany
Untitled (#1532G), Private Collection, Mannheim, Germany
2014

Untitled (#1441G), Private Collection, Mannheim, Germany
2013
to be continued… II (#1341G), Horst Janssen Museum, Oldenburg, Germany
Toulon Twister (#1310G), RNN, Mannheim, Germany
Untitled (#970G), Private Collection, Grand Rapids, MA, USA
Untitled (#1328G), Private Collection, Mannheim, Germany
2012
Untitled (#1145G), Private Collection, Seattle, WA, USA
Scattered (# 1001/2 G), Mannheimer Versicherung AG, Mannheim, Germany
Untitled (#1212 G), Private Collection, New York, NY, USA
Untitled (# 1213 G), Manchester Art Gallery, Manchester, GB
2010
Untitled (#1001-1G), Private Collection, Sagaponack, NY, USA
Untitled (#1025G), Private Collection, Seeshaupt, Germany
Untitled (#1026G) Private Collection, Mannheim, Germany
Goin'Wild (#1028G), Private Collection, Heidelberg, Germany
Untitled (#941G), Private Collection, New York, NY, USA
Momentary Suspension (#1029G), SCAD, Savannah College of Art and Design, Atlanta, GA
2009
Untitled (#946G), Private Collection, Regensburg, Germany
Untitled (#934G), Private Collection, Mannheim, Germany
2008
Big Bang ( #848G), TBWA, Vienna, Austria
2002
State of Mind, Private Collection, Schramberg , Germany
Opus 196, St. Mauritius Therapieklinik, Neuss, Germany
1993
Eine Inszenierung, Private Collection, Düsseldorf-Haan, Germany
1992
Vier Jahreszeiten, Mörsenbroich-Rath GmbH, Düsseldorf, Germany
1991
Domus Aquae, Private Collection, Krefeld, Germany
Solinger Tor, Private Collection, Solingen, Germany
1990
Innenwelt der Außenwelt, Private Collection, Grevenbroich, Germany
1989
Holbein 5, Private Collection, Düsseldorf-Haan, Germany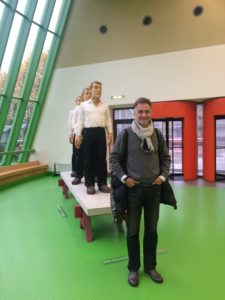 Public Collections
855 Main, Redwood City, CA
Virgin Hotel, Las Vegas, NV
MGM, Las Vegas, NV
Eres Stiftung, München
Mannheimer Versicherung AG, Mannheim
IBM Headquarter, Armonk, NY
Meeschaert Group, Paris
Daniel & Pamella De Vos Foundation, Grand Rapids, MI
Museum für Konkrete Kunst, Ingolstadt
Städtische Kunstsammlungen, Rehau/Bavaria
Museum Schloß Moyland, Kleve
Städtische Kunstsammlungen, Aichach/Bavaria
Bayrische Staatsgemäldesammlungen, München
Papiermuseum, Lenningen
Maxine and Stuart Frankel Foundation for Art, Michigan, MI
Museum Biedermann, Donaueschingen
---
Selected Bibliography
2021
Schiegl, Georg, Nicht von Pappe, in: Süddeutsche Zeitung, 19.05.2021
Schatten-Schnitte, in: Münchner Feuilleton, Juli 2021
2018

Padberg,Martina, Scherenschnitt reloaded, in: Schnittstelle, Cut-out trifft Schattenriss, Museum August Macke Haus, Bonn (cat.)
Dichter, Claudia, Schnittstelle, Audiobeitrag in: Mosaik,WDR, 06.07.2018
Kliemann, Thomas, Schnittstelle, in: General-Anzeiger Bonn, 09.07.2018
Thiemen, Rolf, Zeichnen mit Messer und Skalpell, in: Rheinische Anzeigenblätter, 25.07.2018
Wirth, Heidrun, Brückenschlag zwischen den Zeiten, in Bonner Rundschau, 24.07.2018
Wirth, Heidrun, August-Macke-Haus erweitert, in: in Rhein-Zeitung, 24.07.2018
Franz, Hans-Dieter, In Bücher kann man nicht nur schreiben, KunstBuchaktion, Modo Verlag, Freiburg
2017

hey, Explosive Meditationen, in: Mannheimer Morgen, 22.11.2017
2016

Jeng, Eileen, Splotch: A Visual Paradox, in: Splotch, Sperone Westwater and Lesley Heller Workspace,  New York (cat.)
Morgan, Robert C., The Structure(s) of Splotch, in: Splotch, Sperone Westwater and Lesley Heller Workspace,  New York (cat.)
Dafoe, Taylor, 'Splotch' at Sperone Westwater, in: Blouin Artinfo, 22.12.2016
Cohen, Alina, The Art World's Most Daring – and Fun – Season, in: The New York Times Style Magazine, 28.07.2016
Schütte, Christoph, Offene Türen in Hanau, in: FAZ, 15.01.2016
2015

Im Dialog mit tibetischer Kultur, in: Hanauer Anzeiger, 11.11.2015
Pollinger, Melanie, Schule des Sehens, in: Main Echo, 16./17.05.2015
2014
Lähnemann, Ingmar, Akkurate Dynamik, in: Final Cut, Horst Janssen Museum, Oldenburg (cat.)
2013
Schumann, Frank, Zwischen Herzblut und Beitragskalkulation, in: Mannheimer Morgen, 06.11.2013
2012
Kühne Andreas, Dialog über Jahrtausende, in: Habseligkeiten, Archäologische Staatssammlung München (cat.)
Mutz Katharina, Alt oder neu?, in: Münchener Merkur, 12/2012
Howes Natasha and Corridan Fiona, The Muse of Paper, in: The First Cut, Art Museums in Manchester, Nottingham, Southampton, (cat.)
Space Invaders in: High Touch/Tactile Design and Visual Explorations, Gestalten, Berlin (Hrsg.)
Kern Jan Peter, Pssst!, in: Die Rheinpfalz, 27.08.2012
Herold Inge, Stille Zeichen, in: Stille Zeichen, Kunstverein Landau (cat.)
Wheatley Paul, Andreas Kocks: paperworks, in: Artima Aktuell (cat.)
Bleyl Matthias, Relief und Farbe, Janecke Christian, Darf's etwas mehr sein? in: reliefreduktiv, Künstlerverein Walkmühle, Wiesbaden, Kunstverein Speyer, QuadrART Dornbirn, Neuer Kunstverein Aschaffenburg (cat.)
Lamparth Brigitta, Was zählt ist das Wesentliche, in: Wiesbadener Kurier, 26.04.2012
Peschke Marc, Zwischen zweiter und dritter Dimension, in: FAZ, 27.04.2012
Bauer Kai, Über die Formatgrenzen hinaus, in: Teckbote, 03.04.2012
Cadot Catherine, Quattre Artistes, in : La Provence, 25.02. 2012
2011
Arning Anja, Kränzl versinkt im Blütenschimmer, in Südkurier 27.07.2011
2010
Harris, Jane, Slash: Paper under the Knife, in: Time Out, New York, Jan.14 2010
Neunhoeffer, Gerda, Eingefrorene Zeitmomente, in: Südkurier, 22.6.2010
Warning, Wilhelm, Metamorphose des Raums, in: Auf:bruch- Vier Positionn zeitgenössischer Kunst, Museum Biedermann, Donaueschingen/ Freiburg 2010
hey, Explosionen in der Galerie Fath, in: Mannheimer Morgen, 22.05.2010
2009
Kuchenbeiser, Bernd, Zeigen und schweigen, in: Andreas Kocks, Der Ort und sein Geschehen, Neue Galerie, Dachau(Cat.)
McFadden, David Revere, Andreas Kocks, Benign Violence, in: Slash:Paper under the Knife, Museum of Arts and Design, New York (Cat.)
Schmidt, Petra und Stattmann, Nicola (Hg.) in Unfolded, Papier in Design, Kunst, Architektur und Industrie, Basel, Boston, Berlin
Heise, Rüdiger, Papierene Explosionen, in: Applaus, München, Okt.2009
2008
Krause, Reinhard, Explosion der Fläche, in: AD-Architectural Digest, Feb. 2008
Luckwaldt, Siems, Objekt der Begierde, in: how to spend it, Financial Times Deutschland, März 2008
Komachi, Hanae, Andreas Kocks paperworks, in: ocube, vol. 142, Tokyo, June 2008
Wheatley, Paul, ART on a knife- edge, in: PLATINUM Magazine 4/2008, Australia and New Zealand
Schulz, Bettina, Papier(t)räume, in: NOVUM, 05/08
Wheatley, Paul, Visionen aus Papier, in: Departures, Herbst 2008
Garzón Vecino, Elisa, Big Bang auf Papier, in: THEGAP, Vienna, Dec. 2008
2007
Stock, Wolfgang Jean, Erstarrte Bewegung, in: In the Beginning…, DG-Deutsche Gesellschaft für Christliche Kunst, München (Cat.)
Ferguson, Bruce W., Outside of Sculpture, Outside of Drawing, Outside of Time, in: Andreas Kocks, Unframed-Paperworks, Jeannie Freilich Fine Art, Munich/New York (Cat.)
Warning, Wilhelm, Metamorphose des Raums, in: Andreas Kocks, Unframed-Paperworks, Jeannie Freilich Fine Art, Munich/New York (Cat.)
Swenson, Kirsten, Andreas Kocks at Jeannie Freilich, in: Art in America, Sept. 2007
2006
Gerig, Karen N., Durchdachte Kombination, in: Baseler Zeitung, 20.04.06
2005
Stremmel, Kerstin in: Paper Art 9 remixed, Leopold-Hoesch-Museum Düren
2004
Große Kunstausstellung, Haus der Kunst, München (Cat.)
2003
Thompson Randall, Teri, in:  Where brilliance first unfurls, The New Mexican, Dec. 03
2002
Große Kunstausstellung, Haus der Kunst, München
2000
Kühne, Andreas, in: Zu Gast in der … Galerie Prisma, Bolzano, Italy (Cat.)
1999
Junge Kunst, Haus der Kunst (Cat.); Eva Karcher, Werkstattfragen, in: Imaginäre Orte, Diözesan Museum, Limburg (Cat.); Eine Treppe läuft ins Leere, Badische Zeitung, 16.10.99
1998
Visionen einer Kathedrale, Frankfurter Allgemeine Zeitung, 22.04.98; Turmkünstler, Frankfurter Rundschau, 22.05.98
1997
Erinnerungen, Kunstpreis 97, Freudenberg a.M. (Cat.);
1996
Warning, Wilhelm, in:  Jeder Stoff ist nur das wert, was wir aus ihm machen, in: Kompositionen aus Stahl, Aichach (Cat.); Landesschau Kiel (Cat.)
1995
Zimmermann, Ingrid, in:  Raum und Zeit, Süddeutsche Zeitung, 26.06.95
1994
Museum für Konkrete Kunst (Cat.)
1991
Kunst im Park, Amstetten, Austria (Cat.)
1990
Posca, Claudia, in: Kunstforum Bd.105;
Hofmann,Walter-Jürgen, in: Der Garten der Zahlen, in: Holbein 5, Krefeld (Cat.)
1989
Leach-Rühl, Dawn, in: Casanostra, Galerie Löhrl, Möchengladbach (Cat.); Poetische Farben und Formen, Rheinische Post, 16.09.89
1987
Gomringer, Eugen, in: Das denkbare Objekt, in: … und jeder Zeitraum hat etwas Eigenes, Galerie Gomringer, Rehau (Cat.)
Sziegoleit, Rolf, in: Stilles Monument, Frankenpost, Hof, 19.06.87
Gomringer, Eugen, in:  Vier Antithesen, in: Gastspiele, Städtische Galerie, Oberhausen (Cat.)
---