Tactile Design and Visual Explorations
The three-dimensional look of today's visual culture is being shaped by techniques and styles from fine art and handicraft.
High Touch is a powerful collection of cutting-edge tactile design. This choice selection of three-dimensional work defines a new visual language for presentation and storytelling. The handicraft and artisanship necessary for the creation of these works appeal to the interdisciplinary mindset of our time and activate more of our senses than standard two-dimensional images ever could.
High Touch documents an inspiring range of material objects and spatial orchestrations that meld crafts including crochet, papercraft, and the design of costumes and masks with the techniques of more traditional art forms such as installation, sculpture, collage, photography, and illustration. The examples featured in the book prove that the scope for this trailblazing work is enormous. Applications include advertising, brand presentations, editorial design, photography, product design, stage design, and scenography, as well as related fields that either exist already or that their creators have yet to invent.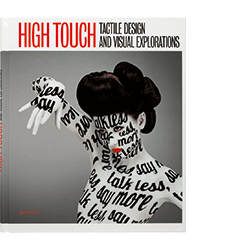 Tactile Design and Visual Explorations
published in 2012 by
Gestalten Verlag, Berlin
Essay by Anna Sinofzik
224 pages, Hardcover, 285 × 245 mm
ISBN 978-3-89955-444-1